Charging electric cars
Enefit VOLT - Charge your electric car easily and conveniently anywhere
Enefit VOLT charging at home -
the most suitable charging solution for you
Driving an electric car is easy and enjoyable, but selecting a charger and doing electrical work is not always as pleasant. We help you make complicated things simple - from selecting a charger to installing it. Get started and see for yourself!
Choose the most suitable charger
Cheaper together!
Charging in Enefit Volt public network - 15% off for a year
Future-proof smart charger
A mobile app for chargers will come soon
Fast, high-quality and safe installation of chargers
We always provide chargers together with installation
Flexible payment methods
In addition to ordinary purchase, we offer the option to pay in installments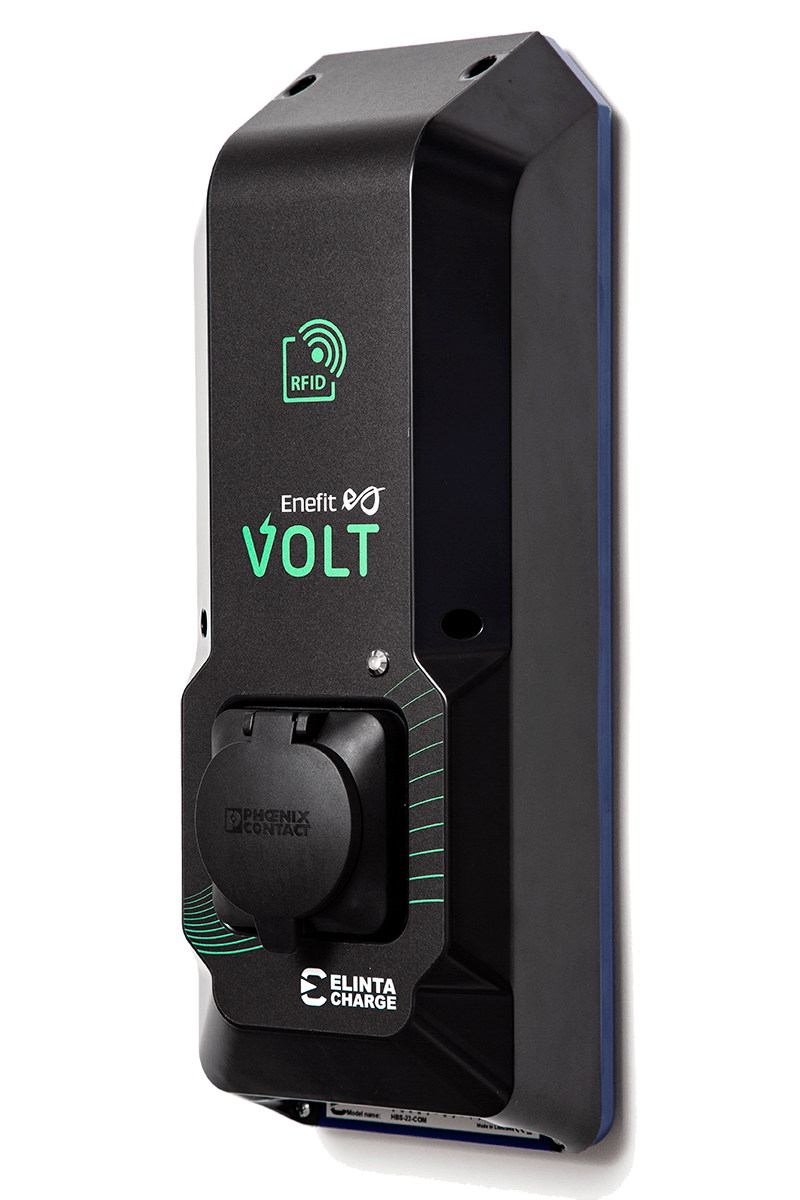 Enefit VOLT home chargers are designed for the future
We offer the future-proof electric car home charger Elinta Homebox Slim with all the necessary accessories. The chargers are available in three capacities: 7.4 kW, 11 kW, 22 kW. Find the perfect option for your home and electric car, using our charger selection assistant.
---
All chargers
If you have several electric cars and/or you are a business customer, ask us for a personal offer!
---
The offer is indicative. Make an inquiry and we will contact you within 2 business days.
Make an inquiry
---
Electric car home charger order
THE INPUT INFORMATION PROVIDED BY YOU WITH THE CHARGER RECOMMENDATION IS SAVED AND ADDED TO THE REQUEST AUTOMATICALLY.
---
---
Five steps towards your own home charger
---
---
Find your charger
Use the charger selection assistant to find the perfect charger and send us your inquiry.
Price quote
We will contact you within two business days, specify the details of the offer, and send a price quote.
It's a deal
If you wish, you can purchase the charger by paying in installments.
Installation
Our highly qualified specialists will install the charger at a suitable time for you.
Start charging
Enjoy the convenient home charging of your electric car. We will soon add the possibility to control the charging via an app.
---
Lisainfo
Seade paigaldatakse elektriauto laadija paigalduse käigus sinu majapidamise elektrikilpi ning selle ülesanne on jälgida reaalajas maja hetke elektrikasutust ja suunata kogu vaba kasutamata võimsus elektriauto laadijasse, et autot saaks laadida maksimaalselt kiiresti ja turvaliselt.
Seadme paigaldust soovitame kindlasti nendele kodudele kus juba täna on limiidi lähedane elektrikasutus ja seetõttu oht, et elektriauto laadimine võib ülekoormusest tingituna kodus "korgid välja lüüa".
NB! Seadme tellimisel tuleb arvestada, et tulenevalt lisatöö mahust paigaldusel ei mahu see fikseeritud hinnaga standardpaigalduse alla ja seetõttu teeme paigalduse juurde täpsustatud hinnapakkumise.