Enefit launches in the household segment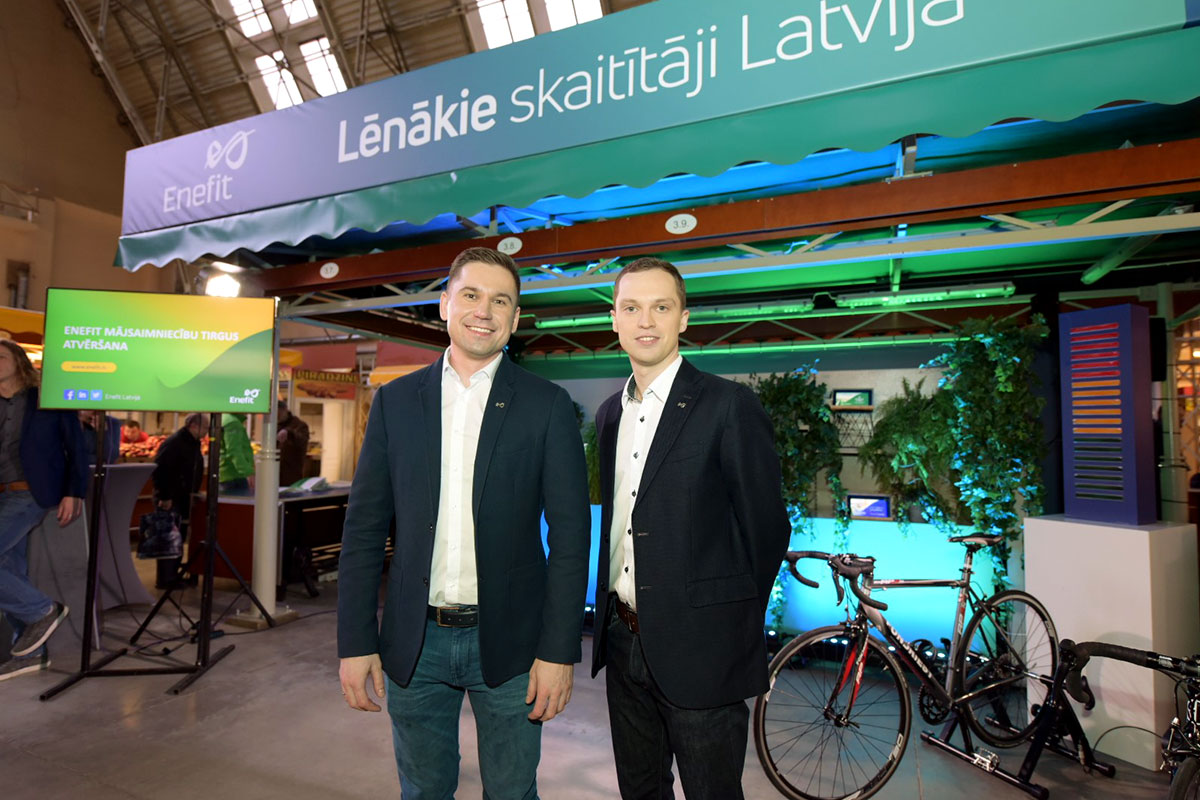 By opening an improvised place of selling in the Vegetables Pavilion of Riga Central Market on 5 March, Enefit, a subsidiary of the largest energy producer in the Baltic Region, Eesti Energia, commenced selling of electricity to Latvian households, thus reminding each inhabitant that the electric energy market is open. The key to Enefit's offering is simple products that offer more favorable purchasing of electricity with no trader markup for volume consumed. Consumers are also offered a convenient digital self-service platform and new solutions for the use of renewable energy resources in their households.
A survey conducted by Enefit shows that almost half (45%) of surveyed households consider changing their electricity supplier at least once a year but that only 6% of households take this step. Half of surveyed electricity consumers indicate that their cooperation with their current service provider continues due to habit and lack of better alternatives.
Already from today, Latvian households may choose Enefit as their electric energy supplier on the website enefit.lv. Enefit is the first trader that offers green energy for sale to households as well as solar panel solutions, insurance for electric appliances, and insurance against unexpected electricity price increases. The mobile application of Enefit Latvija, in turn, allows anyone to monitor their consumption, analyze it and manage connected services.
"This situation is indicative of a considerable potential for more active market activity, which is apparently restricted by the fact that there are only two serious players on the market. Our launch in the household segment is a logical strategic step, particularly taking into account that, last year, we started serving Swedish and Finnish households successfully. This is also a possibility to introduce a digital customer service program, which has been tested in the Scandinavian market, in Latvia. Therefore, I believe that, with our 12 years of experience and a new approach in the offering of electricity services, we shall be able to call the Latvian household market a truly open one and bring its activity closer to the business client activity indicators, which are currently among the highest in Europe," says Jānis Bethers, the Board Chair of Enefit.
Enefit offers two products: Dynamic and Fixed. Both products have the same monthly service fee of 2 EUR. Electricity consumed is sold at wholesale prices, with no extra charge for each consumed kilowatt-hour, thus assuring that Enefit is not interested in its clients' having a higher energy consumption. The only difference is that, when opting for the Dynamic product, the price of electricity will change along with exchange fluctuations, whereas when choosing the Fixed product, the price of electricity will be fixed for the entire contract period based on the current future prices in the wholesale market. It is substantial that the offering of Enefit includes no contractual penalties or any other additional costs. Therefore, clients may, at any time, freely choose or change the selected product or additional services.
Taking a household with a monthly consumption of 450 kWh as an example, one may calculate that, compared to the currently popular fixed-price contracts on the market, the Enefit Fixed product would allow a household to save up to 91 EUR per year. In the competition between products linked to the exchange price, the Enefit Dynamic product would provide a savings of at least 22 EUR per year.
Mārtiņš Vancāns, the manager of the Enefit Household segment, explains: "We currently see that one-third of surveyed electricity users show dissatisfaction with their current trader and also regularly have various issues with the receipt of service and payments. Therefore, we offer a simple and transparent electricity purchase service where the client gets an objective wholesale price and knows for sure that the trader receives the monthly service fee only. This makes our job easier and allows us to focus on various solutions for more efficient and greener consumption, which is a considerable target of our group of companies, and also helps us achieve the goal of the clients — slower turning of the electricity meter."
Enefit will continue active work on the development of products targeted at households by introducing new technical services and energy efficiency solutions and, further, developing an offer for purchase of natural gas. In the long-term, Enefit plans to serve 10% of all Latvian households.