Electric car charging
Enefit Volt chargers for your home
Electric car for a greener future
Electric cars contribute to a significantly cleaner environment and air that we breathe. The use of electric cars means not only moving towards climate neutrality but also lower transport costs.
---
Charging at home - the most suitable charging solution for you
While driving an electric car is easy and enjoyable, selecting a charger and doing electrical work is not always as pleasant. We help you make complicated things simple – from selecting a charger to installing it. Get started and see yourself!
Choose the most suitable charger
Expertise and offer of the most suitable solution 
We help you to find the best individual solution
Green electricity to charge your car
Choose Enefit and use renewable energy to charge your car for 10 years at wholesale market price!
Turn-key solution
We provide fast, high-quality and safe installation and configuration of charging devices
Flexible payment methods
In addition to ordinary purchase, we offer the option to pay in installments
---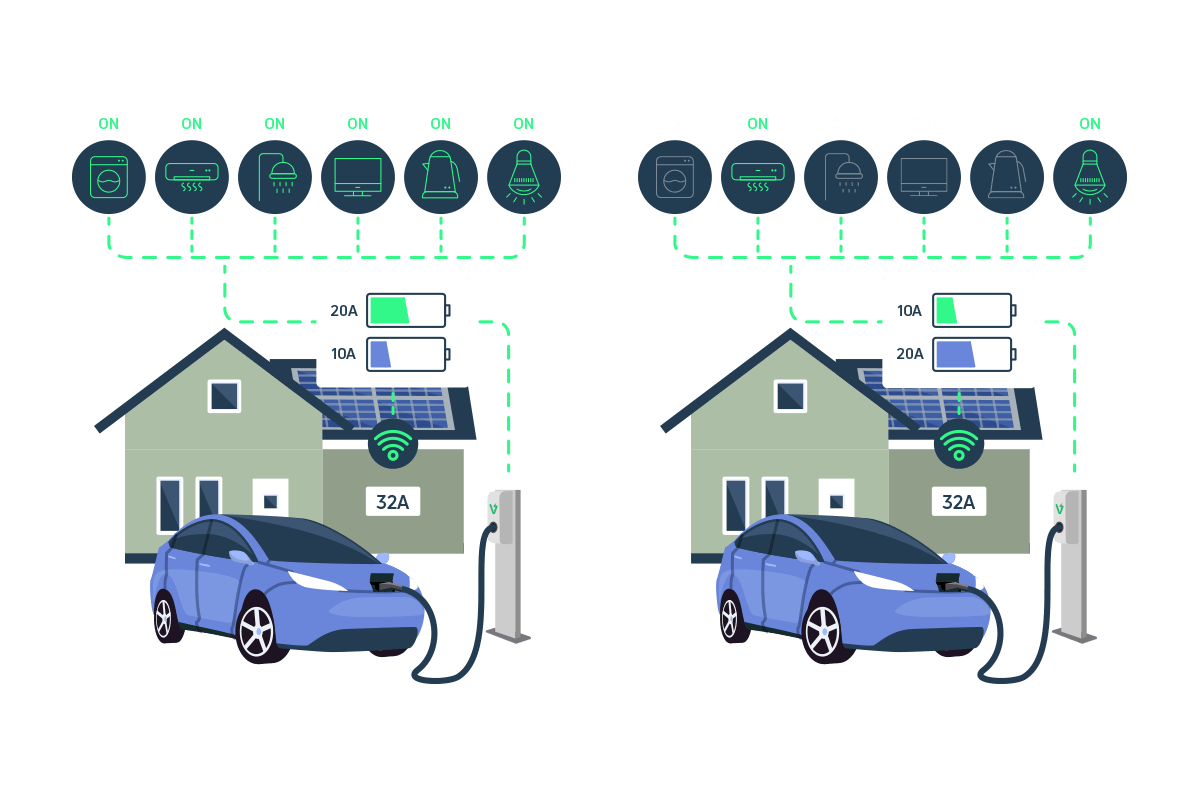 Smart charging solution
The Enefit Volt charging service is smart and convenient to use. It will soon be possible to connect electric car chargers to the Enefit platform, which will allow users to get an overview of their monthly electricity consumption.
Always charge your car at the highest available power. To do this, add a flexible load control device to your charging solution to monitor the current electricity consumption of your building in real time and to direct all unused power to the electric car charger.
RFID Card authorization allows you to restrict access to charging if the charger is in a location that is accessible to others.
Turnkey solution for charging
The convenient and easy charging solution includes a consultation on the selection of the most suitable charging solution, its installation and configuration, as well as a subsequent overview of the quantities used for charging.
---
Five steps towards your own home charger
---
---
Find your charger
Use the charger selection assistant to find the perfect charger and send us your inquiry.
Price quote
We will contact you within two business days, specify the details of the offer, and send a price quote.
It's a deal
After confirming the offer, we will send an invoice, after payment we will agree on the installation.
Installation
Our highly qualified specialists will install the charger at a suitable time for you.
Start charging
Enjoy the convenient home charging of your electric car. We will soon add the possibility to control the charging via an app.
---
Join the journey to Zero!
Renewable electricity solutions are the fastest, most convenient and easiest way to reduce the greenhouse effect to zero.
By allowing green electricity to enter your home, you reduce both your carbon emissions and your ecological footprint.
Read more
---
Frequently Asked Questions
---
---
Why choose Enefit personal charging station?
Full service. Leave the choice of the right charger and technical work to us
Don't know which station suits you the best? Use our virtual assistant on our home page or contact us directly. We will provide advice and offer you the best individual solution free of charge. Our professional specialists will help to choose a charger and provide construction of it at a suitable time.
Flexibility! We offer payment installment options
Want to buy and install the solution that we offer, but not immediately in one single payment? We offer payment installment options for up to 10 years. That will allow you to install the Enefit Volt charger without a significant initial investment.
Professionalism and guaranteed quality
In addition to valuable knowledge and construction, we also offer professional and tested high-quality equipment with a 2-year guarantee. The charging stations offered by the Enefit Volt are for long-term use. Charging stations have RFID card readers that won't allow them to be used by someone who hasn't been granted access.
100% green electricity for 10 years with 0 margin
Link Enefit electricity to your household and be 100% green! Use renewable energy to charge your car at wholesale market price for 10 years!
Reliable partner
Enefit is an affiliate of the Estonian national energy company with 15 years of experience in the Latvian market. We guarantee that we will be here today and for the years to come. We are not only reliable but also an experienced partner in the production of electricity.